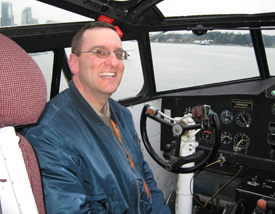 Dear Fellow Collectors;
Welcome to AircraftDisplayModels.com which launched on Thursday, March 31, 2011.
My idea in launching the website is to provide a venue for collectors of professional quality aircraft display models (civil and military) to showcase their collections, meet other collectors, and have their own place on the net to buy/sell/trade using an interactive and database driven website platform. All for the betterment, sharing and future growth of the hobby.
There are already many sites for collectors of die-cast models and plastic models, and this site is totally dedicated to collectors of display models, which are non-kit aircraft models that are made and assembled for manufacturers, airlines and collectors past and present.
The photo gallery side of the site allows collectors to upload photo images of display models, primarily to showcase their own collections. Photos do not necessarily have to be of models within one's own collection. The gallery is database driven and photo uploads will detail a models maker (Space, Pacmin, Westway etc), scale, type of model (wood, metal, floor model, ashtray model etc), and other important details, all of which are searchable within the database. The goal is to develop a large, growing and interesting image database of display models past and present.
When listing models to the photo gallery, users can select to list their images in the "For Sale/Trade" category, where they will be visible for people looking buy or trade models. Once your model sells or is no longer available for sale/trade, you can simply delete the image from the database, or edit the posting and remove it from the "For Sale/trade" category. You can make the changes yourself without having to ask the webmaster for assistance. The other neat thing is that images posted to the gallery can be commented to build lively and interesting discussion within the image post about a specific model.
To upload your images to the gallery, the width of the photo must be between 1000 and 1500 pixels wide. Larger or smaller images will need to be resized. I suggest you prepare your images with a width of 1500 pixels for optimal presentation in the gallery. You can upload one image at a time .. or use the bulk upload java page .. where you can upload numerous images at one time direct from your computer. The uploaded images will be loaded and saved in your "launch pad" where you can add your image details and submit to the screeners at any time you like.
The forum section of the website also allows users to post information about models WANTED / FOR SALE / TRADE (and allows images to be included with your posts) as well as being a medium to engage other collectors in general forum discussion about topics related to the hobby.
In time the website will evolve and grow and improve, with your suggestions, contributions, and support. I encourage you to help spread the word by inviting your friends to the website, and encouraging them to post their model photos to the image gallery, and actively engage other collectors in the forum.
I look forward to seeing your models on the site soon. Happy collecting!
Henry Tenby, Webmaster
AircraftDisplayModels.com
PS: Here's how the photo revenue share works:
If someone orders a 4X6 print from the AircraftDisplayModels website, the price we charge the purchaser is $2 US per print.
We split the $1.70 profit per print sale on a 50/50 basis with our Executive Class members. This means you will earn $.85 each time someone buys a 4X6 print from one of your photos. Economy Class members earn $.65 for each 4X6 photo.
When someone buys a 5X7 print from our website we pay $1.50 to our Executive Class members and $1.14 to our Economy Class members. We payout photographer revenues at least twice per calendar year. Payments are sent to photographers by CashSender.com so you need to have a CashSender account. Get one today.
Economy Class membership with Aircraft Display Models is free, and we welcome you to join us right now. To create your Aircraft Display Models account right now, simply click here!
There's no limit on how many photos of models you can upload, as long as the shot is good and makes it past our photo screening team.
User comments plays a big part of the Aircraft Display Models experience. Of course it has to be done with respect. Let the collectors on our site and our site viewers know what you think about their models. User comments and feedback is a great way to make new friends, share stories, and make your time on Aircraft Display Models all the more rewarding. We encourage you to leave comments, and rate the photos.
If you have have the time and know about display models, why not apply to join our photo screening team.